If you're ready to finally make the jump into RV ownership, but you don't know what RV type will suit your lifestyle best, we can help!  Below, we'll show you the basics of the three major RV types: travel trailers, fifth wheels, and motorhomes.  Additionally, we'll take a look at some of the varieties available in each of these classes so that you can finally find the answer to the question: Which RV is right for me?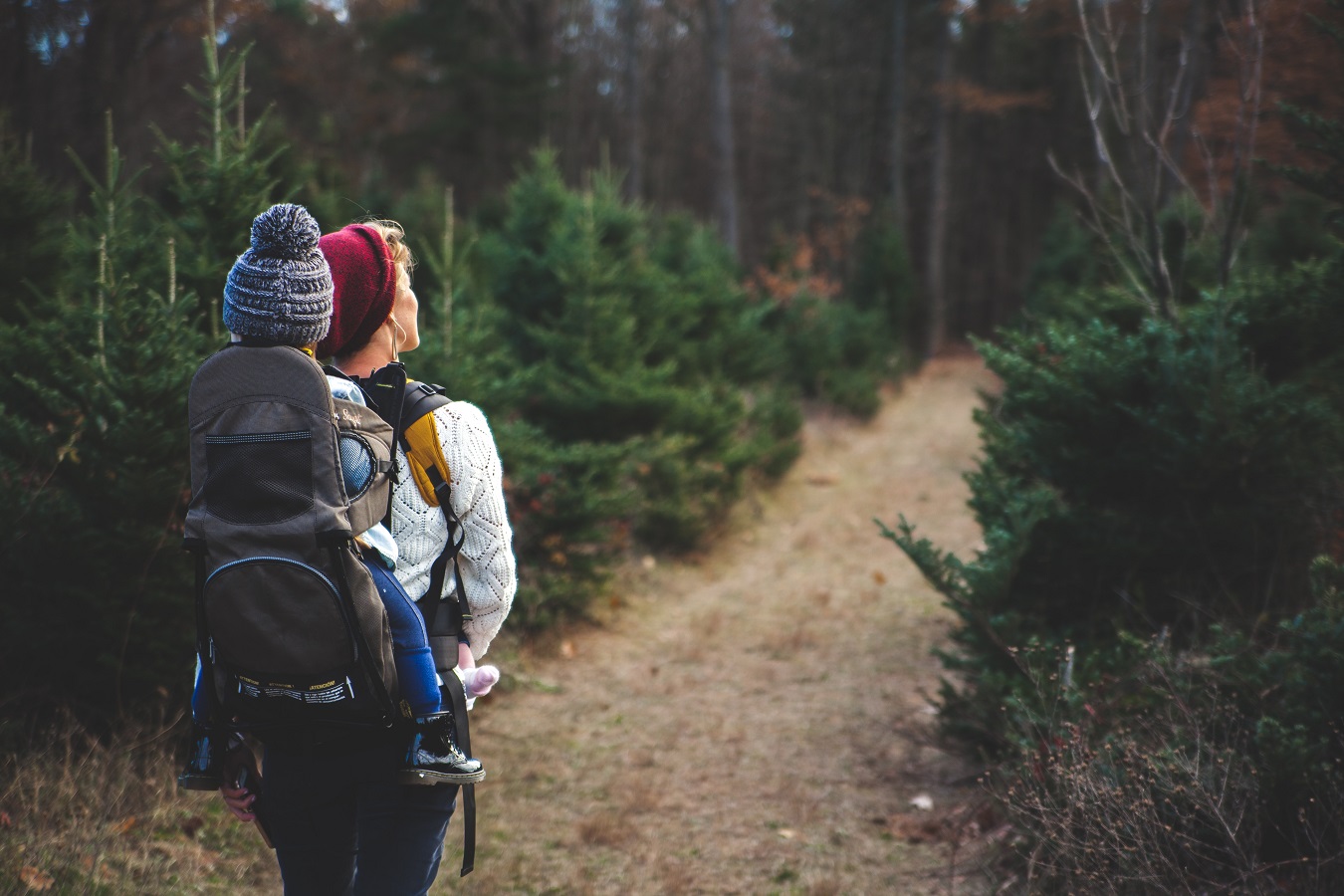 Towables
RVs are divided into towable and motorized RVs.  Towables, as the name suggests, are RVs that do not have an engine and require a towing vehicle.  The most common forms of towables are travel trailers and motorhomes, but there are others.  Pop-up campers, A-Frames, Teardrop trailers, and expandables are all also considered towables.  We're just going to look at travel trailers and fifth wheels today.
Travel trailers are generally lightweight, easy-to-tow, and towable on a standard hitch.  Although travel trailers are smaller than fifth wheels, they often feature similar sleeping capacities, with many floorplans designed to sleep up to ten comfortably.  If you are interested in a relatively easy-to-tow RV with plenty of sleeping space or a compact couple's coach, a travel trailer may be right for you.
This CrossRoads Sunset Trail SS253RB travel trailer is a great example of what you can expect from a travel trailer. This unit sleeps six, features a single slide out, and provides a full kitchen and bathroom. Take an online virtual tour to learn more about this RV.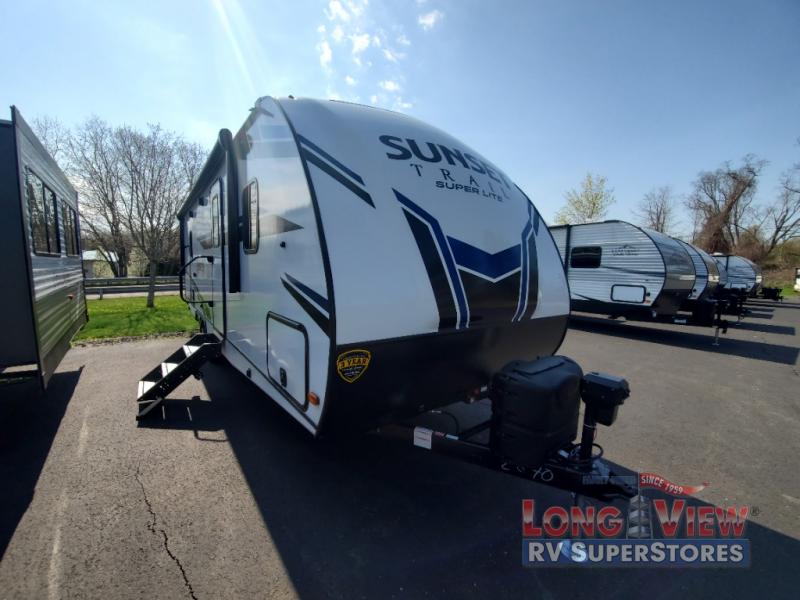 Fifth wheels, like travel trailers, require a towing vehicle to be moved, but they need a specialized hitch mounted in the towing truck's bed. Fifth wheels are often bigger both in length and height than travel trailers. Many RVs choose fifth wheels for the luxury amenities, bigger living areas, and additional storage offered in these RVs.
This Coachmen Brookstone 290RL fifth wheel provides high-quality amenities, spacious interiors, and sleeping for 4. You'll find a kitchen island, dual opposing slides, and many more features to love inside this great RV.  Learn more by taking the 360-degree tour.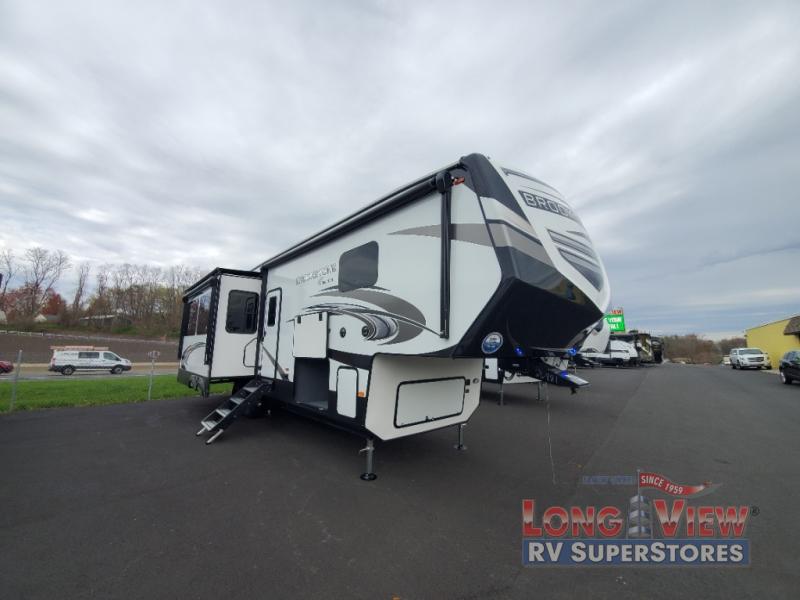 The second category of RVs is motorized units.  Any RV that features an engine and is drivable without a second vehicle is considered a motorized RV or a motorhome.  We'll take a look at just two of the many types of motorhomes below.
Class A motorhomes are characterized by the bus-like chassis, high-quality features, and spacious interiors.  These RVs are made to make setup a breeze so that all you have to do is park, let out the slides, engage the auto-leveling systems, and you're ready to enjoy your time at the campground.
The Thor Motor Coach Palazzo 33.5 class A diesel motorhome on sale at Longview RV Superstores gives you a perfect example of the features and amenities to expect from class A motorhomes. You'll find residential features inside, like the full-sized fridge.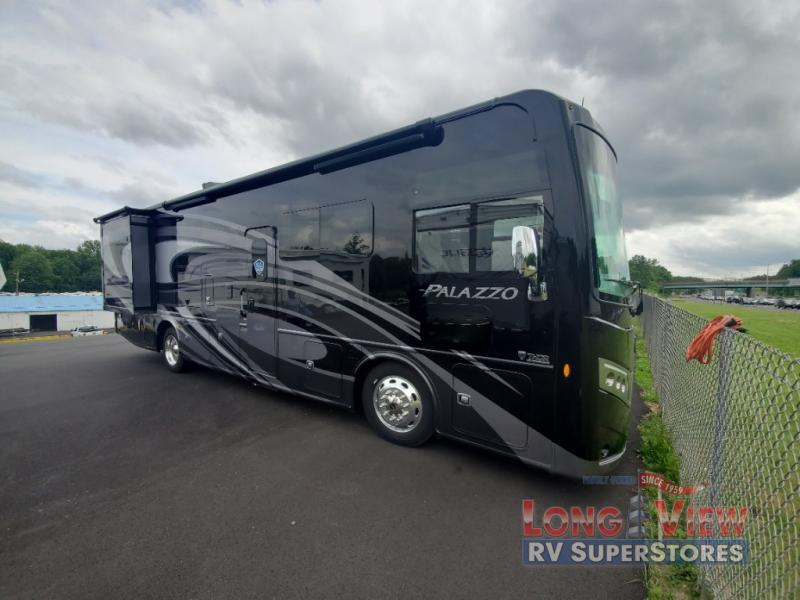 Class C motorhomes are easy to drive and are popular for families with kids who love making trips easy and carefree. Class C motorhomes are characterized by the truck-like chassis and often feature over-cab bunks, sleeping for up to 8, and better fuel efficiency than the class A motorhomes.
Take a look inside the Thor Motor Coach Magnitude SV34 class C diesel motorhome, and you'll see all the features that make a class C motorhomes a great pick for families. The full wall slide opens up the living area, and you'll love the private master bedroom in the rear.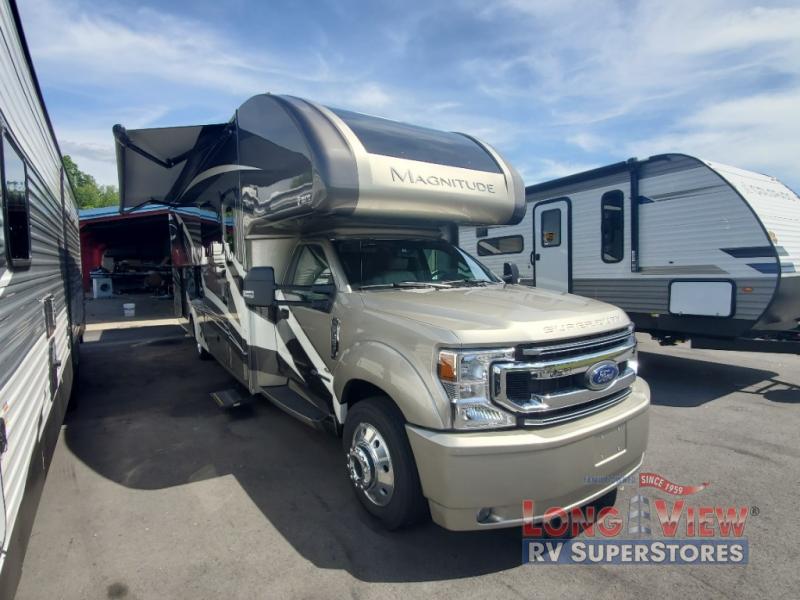 Contact us today to talk to an RV expert and find the perfect RV for your family!