Seamlessly blending the practical with the sophisticated, the Thor Motorcoach A.C.E. is elegant without being too pretentious. A sleek interior furnished with residential flooring, leatherette furniture, and Better Homes and Garden RV fabric, the A.C.E. is designed to be more than just a home away from home — this is a luxurious retreat engineered to handle the curves of the road.
Relax in the spacious galley, or head to the master bedroom for the ultimate in RV design. Featuring a plush Denver mattress topped bed, designer headboard, and spacious closet, the master bedroom of the A.C.E. welcomes tired travelers with grace and guarantees and night's rest worthy of your dreams. For guests, opt for the bunkhouse model for added sleep space.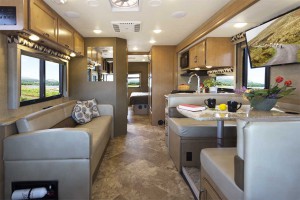 Built for every member of the family, the Thor Motorcoach A.C.E. also includes a pull-out kibble station with FDA-approved lining, and a Pet-Link™ Multi-Purpose Tie-Down ensuring everyone, even your four-legged travelers, journey safely.
A stunning Class A, the A.C.E. is a head-turner with its HD-Max exterior graphics package. Constructed on a Ford F-53 chassis with a vacu-bond laminated body and high-density block foam insulation, the A.C.E. is as beautiful on the inside as it is durable on the out. Powered by a Cummins Onan RV QG 400 gas generator and equipped with a systems control panel that puts you in charge, this is a Class A that will keep you charged and connected no matter where you journey. With a fully-powered cockpit featuring reclining leatherette swivel Captain's chairs, touchscreen display, Birds-eye view mirrors, and an workstation hooked up with 110-volt and 12-volt outlets, you'll travel longer and further in comfort.
The durability of the Thor Motorcoach A.C.E. combined with our RV Warranty Forever package, the only lifetime warranty in the industry, is an investment that will be a part of your memories for years to come. Visit our Longview, CT location today to see all the fine touches Thor has included in this beauty.