See available RV Rentals in Connecticut Today!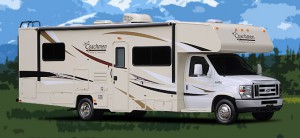 If you've been wondering what the RV lifestyle is all about, but aren't quite ready to buy, you'll love renting. This is the best way to get to know if RVing would work for your lifestyle, without spending money up front. Sound good? Read on to learn more about the benefits of RV rentals.
No Limits
RVing doesn't limit you. You can go wherever your imagination takes you. Want to go to the Grand Canyon, load up and head out! Enjoy the lake? Grab your bathing suit and hit the road. You're not limited to one location or site, because your house, lodging, and food is with you.
Convenience
RVing gives you the freedom to go wherever you want to go. Because you have a bathroom, bedroom, and kitchen all at your fingertips. You can eat according to your own lifestyle and preference, never have to worry about checking in to a hotel, and can sleep comfortably in your own bed.
No Hassle
If you've ever had to wait in line at airport security or deal with lost luggage, you'll know what we are talking about here. There's nothing more frustrating than having to deal with check in times, late flights, and expensive meals. RVing gives you the flexibility and freedom to truly live while on vacation.
Options
RVing gives you options. Plain and simple. No other method of travel allows you to enjoy life as comfortably as RVing does. You can spend as much or as little time as you want getting where you're going. You can eat at a restaurant or stay in and enjoy a home cooked meal while watching a movie on your entertainment system.
If you're interested in learning more about RV rentals in Connecticut, contact us. Our team will help you select a great rental that will take your family on adventures beyond your wildest dreams.