Fall is the best time to buy a Bullet Travel Trailer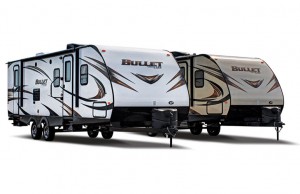 Today's RVers have unique needs and a range of new factors to consider as they purchase an RV. One of the biggest factors that play into a person's RV purchase is fuel efficiency. After all, most people don't want an RV that will consume more fuel (read: more money) than necessary and will require a whole new vehicle to tow. Enter the Keystone Bullet travel trailer. These streamlined, lightweight, and affordable travel trailers provide an incredible living experience, all packed into an easy to tow package. If you're interested in learning more about these RVs read our Keystone Bullet review to learn more.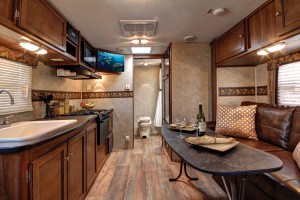 Practical Kitchen
A functional kitchen is a must have for RVers. Enjoying a home cooked meal on the road is one of the many perks of owning an RV. Bullet's kitchen includes a 7 cubic foot refrigerator, a microwave to heat up leftovers, and a three burner output range. A 17″ oven allows you to bake pies, cakes, and roasts with ease. With Bullet you can save money on food and enjoy eating according to whatever diet your family sticks to, wherever you are.
Sweet Dreams Bedroom
Your RV is your home on the road. With that in mind, you need to pay special attention to the bedroom your RV has. Bullet boasts an upgraded memory foam mattress and under bed storage that allows you to bring along extra items, without them crowding your living area. Mirrored wardrobes make getting ready a breeze, while full blackout window treatments ensure you won't be waking up because of the sun peeking through your windows.
Comfortable Living
Bullet's 78″ interior height means that regardless of how tall you are, you'll feel comfortable. In fact, the spacious interior rivals that of much more expensive RVs. Residential furniture is not just comfortable, but also sure to last for many years. Certain floorplans also come with swivel rockers.
If you're interested in learning more about available Bullet travel trailers contact us. We will answer any questions you have and make sure you've got the information necessary to make the best buying decision for your needs.