If you are looking for easy travel and comfort in your recreational vehicle, then look no further than the Rockwood Hard Side High Wall pop-ups for sale here at Longview RV Superstores. The innovative design is compact whether popped up or down in order to make every aspect of traveling easier and more enjoyable. Take a look at the top 3 incredible features for ultimate convenience:
1. Easy-To-Tow
The design of the Rockwood Hard Side is a folding pop-up A-frame to bring the safety and comfort of an RV in a compact, lightweight design. When it is popped down, the lightweight frame and aerodynamics of the camper will make towing is a breeze, and there may even be times when you forget you are even towing. And with electric brakes built in, you'll feel safer in those moments when you need to stop.
2. Every Creature Comfort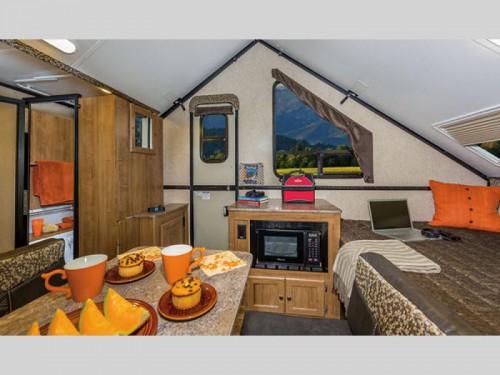 Even with the compact floorplan, the Hard Side High Wall will still come with everything you need for the perfect vacation at the campground. The full kitchen will features stainless steel look appliances and sink to give you a beautiful and functional place to make all of your meals. You'll have more than enough room for everyone with plenty of sleeping options such as a flip-up bed, convertible dinette, and a set of twin beds all with deluxe memory foam, heated mattresses, and some floorplans will even have a full wet bath with shower and toilet combo!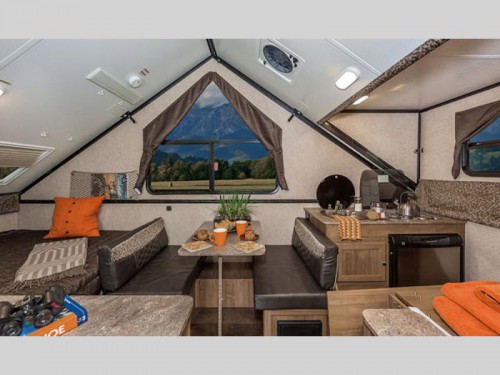 3. Convenient Storage
Last, but not least, you will love how easy this pop-up is to store. The compact design keeps the height down, so you can fit inside your garage without any trouble at all. Then, when it is time to use it, the power roof lift assist will make setting up and tearing down a breeze.
Vacations should be free of stress, and the convenience provided by our Rockwood Hard Side High Wall pop-ups will help alleviate a lot of the issues that arise when travelling. To find out more, be sure to contact us or stop on by our location today! We'd love to show you how you can travel free of stress with one of these pop-up campers.