Our Gulf Stream BT Cruiser for sale is back! This Class B touring coach has been built for those who enjoy camping and driving! If you've been on the fence about choosing a smaller motorhome, you won't have to worry any longer. The Gulf Stream is spacious without compromising on the amount of features that will keep you comfortable.
Continue below to read details in our Gulf Stream RV BT Cruiser Motor Home Class B Review!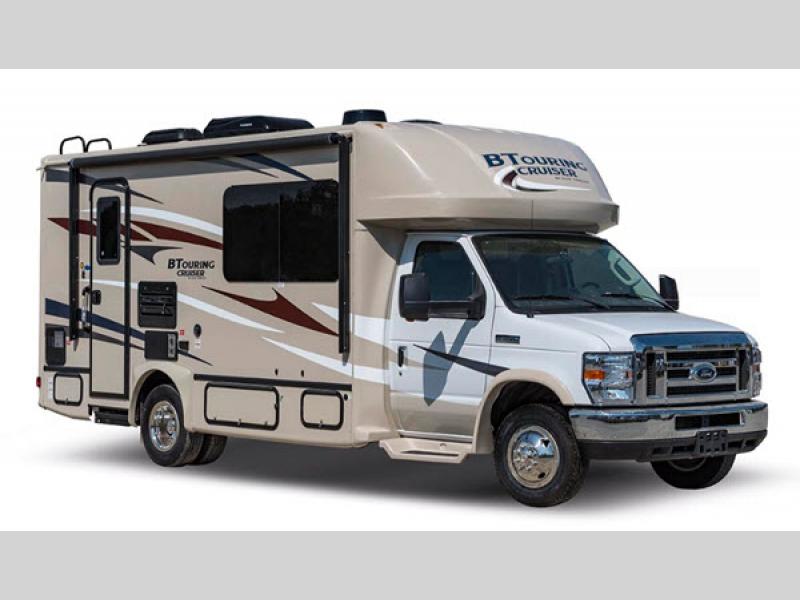 Doesn't the exterior alone have you interested?! The beautiful body design has you riding in style, and not to mention the great construction that keeps the recreational vehicle durable for years. It's built with Smooth Fiberglass Laminated Exterior Walls and Radius Tinted Windows w/Automotive Seals to keep it durable and well sealed, so when you get out on the road, you'll have nothing to worry about.
It also provides you with a Welded Aluminum Cage, Fiberglass Front & Rear Caps & Wings, and a One-Piece Laminated Fiberglass Roof.
A few of the best features we love about the exterior are the Undercoat Paint to keep it looking nice, and of course, the Basement Storage. We have no doubt that with such an amazing motorhome, you'll be on the road maybe even more than you're off of it. The storage allows you to skip the worrying over whether you'll have enough room or not.
Additional Exterior Feature Highlights:
Magnetic Door Holders on Compartment Doors
Undercoat Paint
Laminated Steel-Frame Floor w/Metal Underbelly
Rear Mud Flaps
Kitchen Window (n/a 5291)
Slide out Room w/Sofa & Topper (n/a 5210)
Foam Seal & Undercoating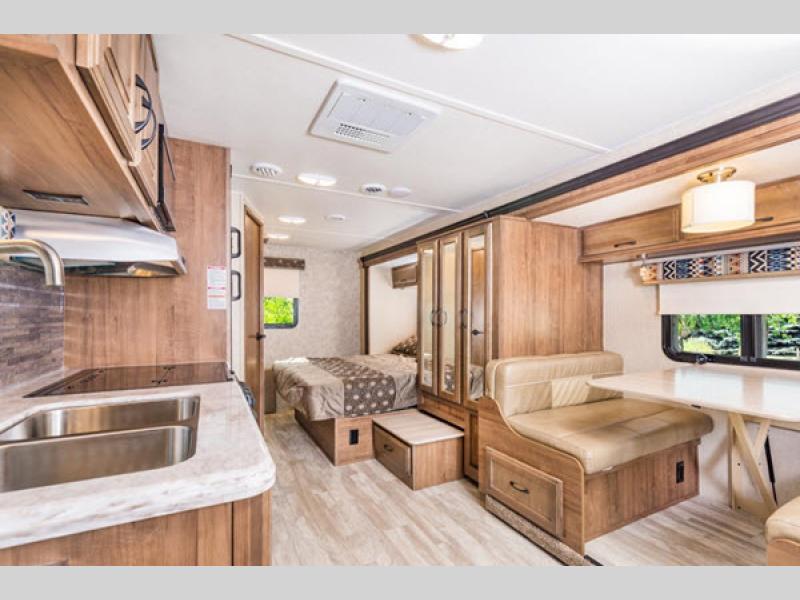 If the luxury of the interior doesn't catch your eye, we don't know what will! The gorgeously designed Interior Upgraded Fabrics and Designer Window Treatments have it looking sleek and beautiful!
The BT Cruiser is built with Griffith Maple Cabinetry and Satin Nickel Lights to keep the ambiance warm and comfortable. It also provides Overhead Reading Lights for those of you that love to spend your evenings with a book, or if there is some extra work that needs get done while you're out on the road.
You'll love the 6 cu. ft. 2-Way Double Door Refrigerator when you're traveling for so long. Once you're on out the road, you'll find this fridge to be the perfect size for all of your stored food. The kitchen also comes with a Microwave Oven and a 3-Burner Range w/Oven.
Additional Interior Feature Highlights:
Soft Pleated Privacy Shades
Privacy Curtain in Cab Area
Pleated Privacy Bedroom Door (n/a 5210, 5230)
Soft Touch Jack Knife Sofa
Single Barrel Chair (5270, 5316)
2-Way Driver / Passenger Cloth Seats
As you can see by this thorough review, the BT Cruiser is everything you dreamed of in a motorhome, plus a lot more! If you're interested at all, or if you have any questions for us concerning any of our RVs, please contact us today. We love connecting with our customers, especially if they're on their way to the RV lifestyle!