Life is meant to be lived and that means you should try to eliminate all boundaries to fun and family time. Enter the No Boundaries travel trailer. This RV offers all the features you'd expect from an RV, at a price point that is sure to impress. Whether you're looking to take a quick weekend trip or are planning an excursion across the country, you can rest confident this travel trailer will make any time spent in it one for the memory books. That's why we're proud to be your Forest River No Boundaries dealer.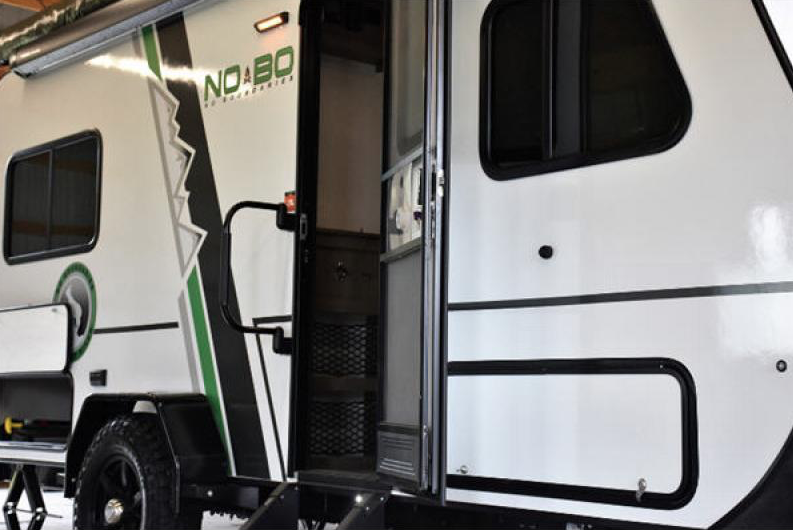 Comfortable Kitchen
You might expect a lightweight travel trailer to be lacking in kitchen features and when it comes to some brands you might be right. But the No Boundaries travel trailer promises a delightful kitchen experience in every No Bo floorplan.
Features:
2 Burner Cook Top
Stainless Steel Sink (where applicable)
Bottle opener
Ample Storage
Wherever the road might take you, it's important that you have enough space to bring along all of your favorite items. From fishing poles to canoe oars, you'll appreciate the extensive storage found throughout this travel trailer.
Features:
Pass thru storage
Endless kitchen cabinetry
Unique kitchen spice storage
Lovely Dining
At the end of the day, after having some fun in the sun or hiking a new trail, there's nothing like coming home to a delicious meal. Enter the dining area – the perfect place for you to enjoy a home cooked meal in complete comfort.
Features:
Tempered Seamless Panoramic Front Window (where applicable)
High Performance Vinyl Seat Cushions and Backs
If you're interested in learning more about our No Boundaries travel trailers for sale, contact us. We'd be happy to talk to you about available units or walk you through them.