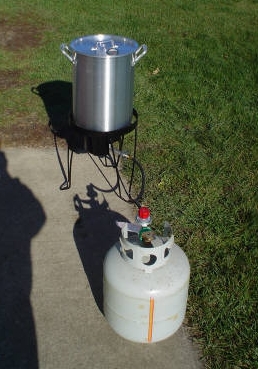 It's that time of year again. Time to get in the car and head to your family's home for Thanksgiving or, perhaps you've got the pressure of hosting Thanksgiving dinner. Either way, this time of year can drive many people crazy. So, what can an RVer do? Well, you might consider hopping in your RV and celebrating Thanksgiving on the road. Before you do that, though, be sure to follow these helpful tips.
The Turkey
Ahhh, the turkey. It's the focus of the Thanksgiving table. It's what brings everyone together, but who says you have to have turkey on Thanksgiving? Some RVs come with ovens that are large enough to accommodate a turkey, but many don't. Spending the holiday in your RV might be a good choice for you if you're willing to compromise. A few options include just cooking a turkey breast instead of a whole turkey, whipping up a cornish hen, or frying your turkey outside of the RV (just make sure your RV park is OK with this).
Side Dishes
We all know the typical Thanksgiving dinner has around 3,000 calories in it. The humble turkey, however, is not to blame for this. Usually, the side dishes we enjoy with our turkey is what really add to the calories – that and lots of pumpkin pie! Instead of creating traditional side dishes that usually go to waste, consider maybe making only a few of your favorites or putting a new twist on side dishes and making something simple like macaroni and cheese or homemade bread.
Family
Family is the most important part of Thanksgiving. Of course, sometimes they drive us crazy. Believe it or not, hitting the road and choosing a centrally located RV park that the entire family can get together at is actually a great way to lessen stress and make memories. Plus, you get to sneak in a vacation that everyone will remember.
Scheduling
When determining when and where to vacation will largely depend on if you plan to invite other family members and how convenient various RV parks are to your family. It's important to call ahead to reserve your spot, however, since this is the low season in most parks an off the cuf trip might just work out!
Photo Credit: By Jesster79 (talk) (Uploads). [CC-BY-SA-3.0 (http://creativecommons.org/licenses/by-sa/3.0), GFDL (www.gnu.org/copyleft/fdl.html) or CC-BY-SA-3.0 (http://creativecommons.org/licenses/by-sa/3.0/)], via Wikimedia Commons