Connecticut is home to some of the most beautiful scenic drives. Lucky for travelers, Connecticut is also home to some the of best roadside food. Check out some of our favorite roadside stops and see for yourself what makes Connecticut the perfect RV destination.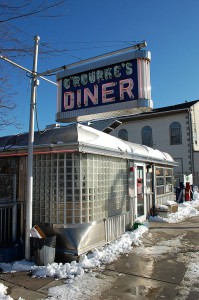 Along Route 84 in Union, nestled under the Food & Books sign, you'll find Traveler Restaurant a roadside dining spot with a literary twist. The menu at Traveler is your standard fare, hearty breakfasts and hot coffee, but it's what comes with your meal that makes this a quirky stop. There are books everywhere in Traveler and every meal comes with three free books for you.
Traveler Restaurant 1257 Buckley Highway, Union, CT 06076 
Al's Hot Dog Stand in Naugatuck has been serving hot dogs for over 30 years. In that time, this roadside stop has perfected their menu. It's one thing to have to decide between a hot dog or the Philly, but then to decide between the birch beer or the cherry shake just means this is a stop to make when heading both ways on Route 8.
Al's Hotdog Stand 248 S Main St Naugatuck, CT 06770 (Exit 26 off Rt. 8)
Just off Route 9 in Middleton is O'Rourke's Diner, a staple roadside restaurant since 1941. The menu at O'Rourke's covers all the diner essentials with a few extra surprises like the Polish omelette and Babka French Toast. But what makes O'Rourke's stand out is their steamed burger, which puts this spot at the top of foodies' lists.
O'Rourke's Diner 728 Main St, Middletown, CT 06457  860-346-6101
Sweet Evaline's Stand sits along Route 169 in Woodstock. This family favorite is our go-to spot for sloppy joe's and hand-cut fries, plus their pizza ranks among the top spots in the tri-state area. And don't even get me started on their Willa Whoopie Pies, I think I'm due for a quick trip north.
Sweet Evaline's Stand 688 CT-169, Woodstock, CT 06281
What's your favorite roadside dining? Comment on our Facebook page and let us know. Ready to hit the road and try some of these restaurants? Visit us today and take a look at our new arrivals.