Check Out Our Great Selection of Berkshire Motorhomes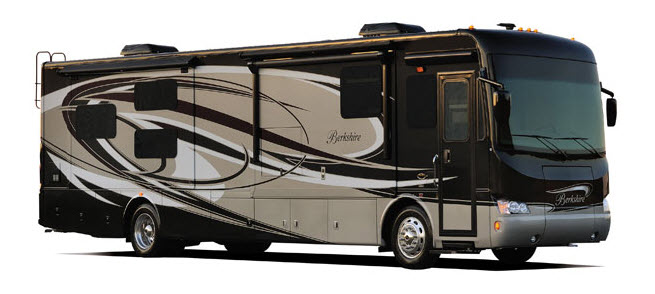 Berkshire class A motorhomes by Forest River delivers unparalleled sophistication and luxury. Built on a Cummins ISB-XT 360 horsepower engine, these motorhomes are perfect for seasoned RVers who want to live life on the road and those who simply want to take a few incredible, high end vacations throughout the year. Read our Berkshire review to learn more about this motorhome.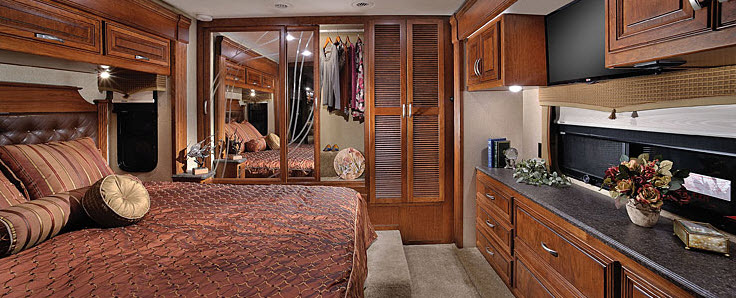 Master Mechanics
The Berkshire comes with a standard 100 gallon dual fill fuel tank.It's built on a Cummins ISB turbo diesel 6.7 liter 340 HP at 2800 RPM. 660 ft lb torque at 1600 RPM, and Allison 2500MH 6-Speed automatic transmission, electric push button shift, Transynd transmission fluid, and a 10,000 lb receiver hitch all make this an incredibly powerful home on the road.
Luxury Living
Berkshire's living area is created to provide incredible luxury to all who call it home. LED lighting is energy efficient and cool to the touch, yet provides a bright environment. A 39″ LED TV and sound bar with a bass woofer and mid range tweeter let you enjoy your favorite TV shows and movies. Soft Touch furniture is not only comfortable and luxurious, but also makes you feel right at home.
High End Kitchen
If you love to cook, your passion will bloom in the Berkshire's kitchen. It features a 30″ convection microwave and oven. A sealed three burner recessed cooktop allows you to create your favorite meals, while a 12 cubic foot refrigerator allows you to store all of your food without taking multiple trips to the grocery store.
Sweet, Sweet, Dreams
Your bedroom comes with everything you need to get the best sleep. A 32″ LED TV means you can watch TV while winding down for the night. Depending on the floorplan you select you can get either a king or queen sized Serta bed. A stackable washer and dryer make you feel right at home and eliminate the hassle of having to find a laundry facility.
Relaxing Baths
Each bathroom was designed for maximum comfort. It includes a porcelain toilet, mirrored medicine cabinet, and a one piece fiberglass shower with a seat. From the moment you enter this bathroom, you'll love relaxing after a long day of fun.
We welcome you to stop by our Connecticut RV dealership to view available Berkshire motorhomes and our many other available RVs.
Looking for something else? Check out these other great diesel motorhomes: Forest River Charleston, Forest River Legacy, Thor Palazzo