There's something about sleeping in a cozy bed with a roof above your head to keep you comfortable at a campground, and if you don't own an RV, renting an RV is a great idea! If you've ever slept in a tent, you understand what I'm talking about when I say indoors is the best kind of vacation. No hard ground. No sore muscles. It just makes sense. Here are 3 reasons why you should consider renting an RV with us this summer.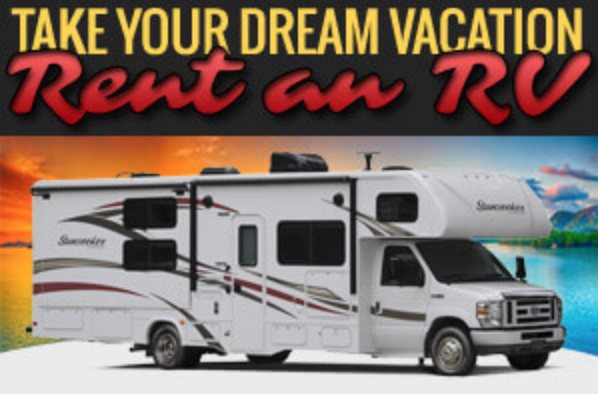 1. Renting Lets You Try Before You Buy
If you've never been in an RV before, now is the time to try it out when the summer is just getting into full swing. There's nothing like the experiences of RVing, and if you've never even stepped inside one before, this is the perfect opportunity. All of our motorhomes are beautifully designed and luxurious, and what better way to spend a vacation than trying out RV camping for the first time
2. Adventure & Relaxation
Oh, the luxurious features of a motorhome. If you've ever wanted a taste of what RVing is like, renting one of our motorhomes would be perfect to get a good idea. Picture this: sleeping under the beautiful, magnificent stars without having to deal with annoying mosquitos and the smoldering muggy heat of a summer night . . . amazing.
All of our units come with TV's, DVD players, and power awnings, so even on rainy days you'll never feel too pressed, and you'll have the amazing yet simple features of home. A family vacation in one of our awesome rentals will give you the relaxation you need, while still allowing you to have the fun experiences of the outdoors: hiking, fishing, biking, or just sitting by the campfire on a warm night.
3. A Very Easy, Smooth Road Trip
It's summer. It's hot. Your vehicle fits only five people, and you have exactly five people… which means a very small amount of personal space. Road tripping can be difficult when everyone is sitting directly next to each other. With a motorhome, not only do you get to sleep in a spacious RV, but you get to drive to your destination in one, as well. Not only that, but imagine the tent that you'd have to shove in the back, leaving you less storage in your car to fit everything you'll need for the next five days. The storage of one of our motorhome rentals will you give you that space you need to be organized and perfectly prepared for all of your fun adventures.
Get a Real Taste of RVing
We hope to see you soon to come pick up an RV for a vacation. Renting an RV is the perfect way to spend a family vacation, and make the best memories while doing it. If you have any questions at all, please just contact us, and we'll be able to answer anything that's on your mind! You won't regret renting one of our motorhomes for your summer upcoming journeys.